Mon, 8th Apr - 06:00 AM
Wed, 10th Apr - 02:00 PM
Add to calendar
Design Offices Highlight Towers
Munich
See location
Description
A 3-day workshop designed to teach you how to become a Design Sprint master and integrate the process in your workflow.
Hey there Design Sprint enthusiasts!
Join us in Munich for an interactive and hands-on Design Sprint experience. Learn everything you need to know about the methodology by doing a real Design Sprint simulation and learn advanced tips & tricks in order to maximise the Design Sprint to your needs.
Why Design Sprints in the first place?
Here's a quick intro to Design Sprints: it's a framework that allows you to decide on a problem, generate solutions, prototype and test ideas in just 4 days.
WHAT?!? 🤯🤯🤯Crazy, right?
The Google-born methodology is a game changer for people working in the world of digital products. Designers, project managers, product practitioners and everyone in between love the Design Sprint, because it aligns teams, help bypass all the irrelevant meetings and gets you to your results super fast.
In our day to day projects, we might feel we're not getting close to our goals. Like you're in a dark room trying to shoot a dart at a bullseye you can't see. Pretty tricky. Well, the Design Sprint is like a flashlight that helps you find the right direction.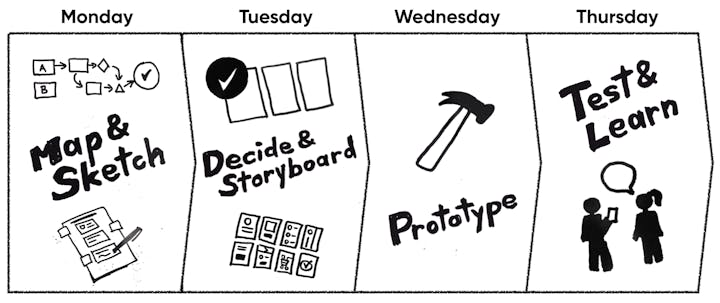 Who should attend?
If you're a design or product consultant, or work in a team or company and want to make Design Sprints part of your workflow, this is for you. The Design Sprint is ideal for:
Product & UX Designers

Project & Product Managers

Innovation Leads

Design Leads

Startup Founders

Company Execs

Anyone working with digital products
What are you going to learn?
The why, how & what of Design Sprints

The secret behind successful Design Sprints

Who should be in a Design Sprint

How to choose the right challenge for a Design Sprint

How to frame the problem and prepare for the Sprint

Deep-dive in the day-by-day facilitation

How to set-up the Sprint for success

How to get stakeholder or client buy-in to run Sprints

How the Design Sprint fits in your current workflow

Advanced facilitation tips

How to adapt the Design Sprint to run growth experiments
What you're getting:
A complete resource library to help you run Design Sprints

2 certified Design Sprint Facilitators at your disposal

Advanced tips & tricks to achieve mastery

Real Design Sprint study cases and examples

A complete toolkit for applying Design Sprints
Early Bird Workshop Pass
€749,00
+
Regular Workshop Pass
€997,00
+
Ethical Ticketing
Ticketpass will donate 50% of the booking fee to help fund charity projects.
Find nearby hotels, hostels and airbnbs
Show accommodation